Autumn is going to get pretty exciting
By Vicky Twomey-Lee in Dublin Sept. 4, 2015, 4 p.m.
There's a few things happening the next month or two, and they are all pretty exciting.
We will be partnering with CoderDojoGirls, Girls Hack Ireland to run an exciting coding event at DCU Innovation Campus on Saturday, October 10th.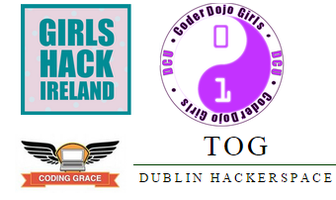 What's cool it's part of two major celebrations
I'll also be at the upcoming Career Zoo and the event has a big focus on Women in Tech, there's a series of workshops as part of the MiNT initative.
You can read more about it via this article by one of the co-founders, James Milligan. The other co-founder is Susan Hogan.
If you are looking for me at Career Zoo, I'll be hanging around the Python Ireland booth. A little reminder that the Financial Aid for PyCon Ireland 2015 has been extended as they are still accepting applications. To apply, go to http://python.ie/pycon-2015/financial-aid/
And yep... our September newsletter was released pretty much on time this month, read September newsletter at your leisure. You will find other events listed in it, and if you want to share events not on the list, please add to comment section below.
If you want me to include something in the next newsletter, let me know via contact@codinggrace.com.
Some events that missed out in the newsletter
Ruby Ireland: Crypto on the Canal
Tue, Sep 15 (18:30)
Venue: Zendesk, D2
Java 8 Meetup:
Thu, Sep 10 (18:30)
Venue: AOL, D8
Ireland Girl Geek Dinner